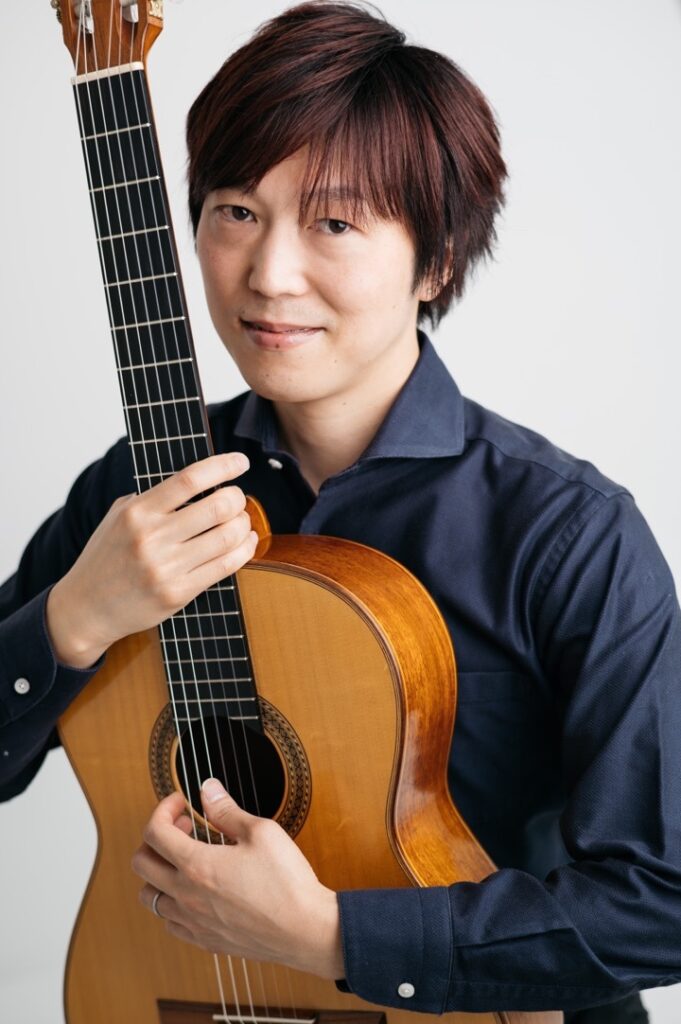 日本大学芸術学部音楽学科卒業、洗足学園音楽大学大学院修士課程器楽専攻修了。クラシックギターを原善伸、鈴木大介、藤井眞吾の各氏、フラメンコギターを今田央氏、リュートを金子浩氏に師事する。ドイツヴァイカースハイム国際音楽祭('05年、'08年)、ドイツコブレンツ国際ギターフェスティバル('17年)に参加。D.ラッセル、R.ガジェン等マスタークラス受講。現在、ソロ、ギターや他の楽器とのアンサンブルなど各地で演奏活動を行っている。主催教室や楽器店等で指導を務めている。
Photo by Kobatone
Born in Japan, Hideyuki Arano is an active classical guitarist and chamber musician who continues to perform solo as well as chamber music extensively around Japan.
He also teaches classical guitar/ukulele at his own guitar school as well as other music school. On his YouTube channel, he not only plays the guitar and ukulele but also provides tips about guitar and ukulele technique, which has been well received among guitar/ukulele learners and his students, based on his abundant experience teaching guitar/ukulele to hundreds of his students over 10 years.
His music background is quite unique, perhaps quite different from those classical musicians.
Having learned the piano in the small town of Saitama since he was 10 years old, he grew up surrounded by a variety of music opportunities. He first took an interest in electric guitar at the age of 13 and performed as a member of the locally popular band on the stage. In pursuit of further improving his guitar skill, he met in his late teenage years Mr. Yoshinobu Hara, the highly acclaimed classical guitarist, and studied the classical guitar with Mr. Hara at Nihon University College of Art. He also earned the Master of Music at Senzoku Gakuen College of Music where he studied with highly acclaimed guitarists including Mr. Yoshinobu Hara, Mr. Daisuke Suzuki and Mr. Shingo Fujii.
Hideyuki Arano further developed his guitar skill by attending a lot of master classes of virtuoso guitarists including: Mr. David Russel, Mr. Recardo Gallen, Mr. Scott Tennant and Mr. William Kanengiser.
In addition, he participated in renowned international guitar festivals such as Weikersheim International Guitar Festival and Koblenz International Guitar Festival.
SNS
Youtube↓
https://youtube.com/@Hideyuki_Arano
Instagram↓
https://www.instagram.com/hideyukiarano/
Twitter↓
http://twitter.com/HideyukiArano